Sushi Making Party
Gift Certificate
for Holiday Gift
Sushi Bento Box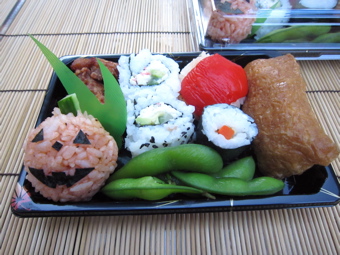 Sushi Dinner Catering
Vegetarian Welcome!!
Welcome to STUDIO NIHON, your premier source for Japanese catering and events in Santa Barbara.
Studio Nihon offers a customized, on-site Japanese cultural experience through food, sake, and fine arts. Enjoy the refinements of Japanese hospitality in your home dining and entertainment.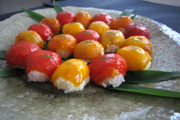 Our Services
From Japanese food catering to a sake-tasting party, we will customize our services to your interests. Whether you're preparing a social gathering, a birthday or vegetarian party, or learning to make Japanese food, Studio Nihon can help you fashion a unique and memorable Japanese experience.
You can order your choice of sushi, or choose from a variety of healthy, delicious Japanese foods that you probably won't find in American sushi restaurants. Explore Japanese cusine while you enjoy an authentic, elegant Japanese atmosphere in your own home! Visit our Catering and Classes page for more details.
New: Follow us on Facebook for the latest updates!
Your Host
Studio Nihon proprietor Fukiko Miyazaki is passionate about sharing her knowledge of Japanese food, sake, and culture. An accomplished chef and certified Sake Sommelier, she combines professional training in both Japan and the U.S. with years of experience sharing traditional and contemporary Japanese food and hospitality with friends and clients in Santa Barbara and beyond. Visit About Us for more details.
Plans and Pricing
Since Studio Nihon offers completely custom services, service plans and costs will vary depending on your selections. Please Contact Us for your free consultation on menus and options.