October 2011: Annual Asian American Festival
STUDIO NIHON hold a booth at The Santa Barbara Presidio's Asian American Neighborhood. We sold Halloween Sushi Bento Box and Green tea. Bento box included Jack-O-Lantern Rice Ball, CA Roll, Roasted Pepper Sushi, Roasted Carrot Roll, Inari sushi, chicken karaage, edamame, cucumber pickles.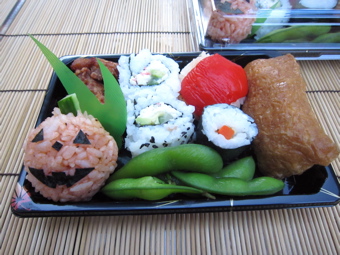 March 2011:
Santa Barbara & Toba, Japan Sister cities organization Springtime Hinamatsuri Party with STUDIO NIHON
Feburary 2011:
Valentine Special Sushi Class
We made cute heart shaped sushi with smoked salmon. 13 people enjoyed making heart sushi for their valentine!

26th Santa Barbara International Film Festival
Studio Nihon was one of food vender at the 26th annual Santa Barbara International Film Festival the Cinema Vanguard Award After Party. People enjoyed our a few differnt kinds of sushi.
November 2010: SUNSET MAGAZINE Article
Studio Nihon was introduced in an article titled "Watch Out, Julia Child!" in the October issue of Sunset Magazine.
Studio Nihon's listing, "Sushi Class in Santa Barbara," was among "Three cooking classes that will make you a master," along with a cupcake academy in West Hollywood and a cheese class in San Diego.
Here's an excerpt from the article:
Fukiko Miyazaki grew up cookin

g traditional recipes in Japan. Now she shares her expertise as chef-owner of the new Studio Nihon, with bonus helpings of culinary history and shopping tips. Ask about pairings too–she's a certified sake sommelier.
Visit our Classes page to find out how you can learn to make sushi and more!
October 2010: SOL FOOD FESTIVAL
Studio Nihon was a vendor at the SOL Food Festival on October 2, helping raise awareness of the Sustainable, Organic, and Local food systems of Santa Barbara County. This one-day, community based festival was open to all and the admission was free. Our Sustainable, Organic, and Local roasted vegetable hand rolled sushi was very popular!
September 2010: NEIGHBORHOOD PASTIMES
The Santa Barbara Trust for Historic Preservation continued its Asian American series with a special Presidio Neighborhood Pastimes event featuring Japanese and Chinese cultural activities, with food by Studio Nihon. Attendees ampled a traditional Japanese bentō (lunchbox) while enjoying scheduled and ongoing entertainments, including drumming and dance presentations, Japanese shakuhachi (bamboo flute) performance, and participatory activities such as children's crafts, origami, haiku writing, and Japanese and Chinese calligraphy.
View photos from the event!
August 2010: SUSHI IN THE CELLAR
Oreana Winery was the host for a Sushi and Wine dinner catered by Studio Nihon. Proprietor Fukiko Myazaki made sushi on site, and Oreana winemaker Christian Garvin paired it with Oreana summer wines.
View photos from the event!
Interested in having Studio Nihon cater your special event? Please Contact Us.