Private Cooking Classes
To arrange for private classes, please Contact Us.
We'll bring ingredients and equipment to your location.
Two-hour classes scheduled at your convenience.
You'll learn, cook, eat, and have fun! (Check out our Cartas Testimonial!)
Enrollment minimum: 2 people.
Class fee depends on menu and number of participants.
Many vegetarian menu avaiable.
1. Sushi Classes
Basic Roll Course: California Roll, Vegetable Roll, Hand Roll, etc.
Advanced Roll Course: Rainbow Roll, Shrimp Tempura Roll, etc.
Nigiri Sushi Course: Varieties of fish on top of a bite-size portion of sushi rice
Kazarimaki (Decorative Sushi) Course
Other Sushi Course: Inari sushi, Chirashi sushi, Oshi sushi, Temari sushi, etc.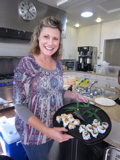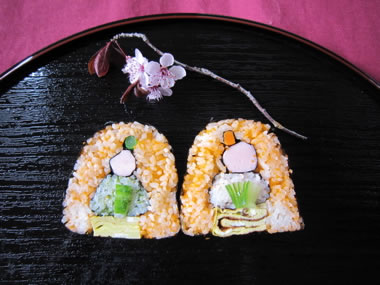 2. Japanese Home-Style Cooking Classes
Pick the dishes you'd like to learn! Popular menu ideas include miso soup, tonkatsu (breaded pork cutlets), karaage (Japanese style fried chicken), korokke (croquets), okonomiyaki (Japanese-style crepe with vegetables and seafood or meat), nabe (Japanese hot pot), yakisoba, agedashi dofu (lightly deep-fried tofu in broth), tempura, teriyaki, tamago yaki, gyoza. etc.
3. Japanese Calligraphy Class
Learn Beautiful Japanese calligraphy with Japanese alphabets, hiragana, and kanji

Beginners& kids are welcome